White Center Community Safety Coalition: Calmer month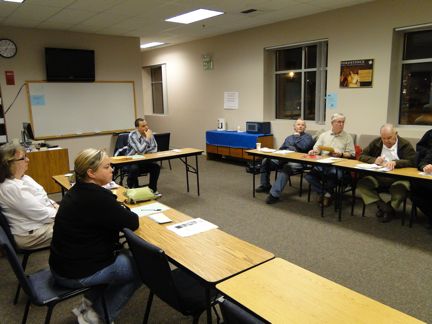 By Randall G. Hauk
Reporting for White Center Now
Deputy Gerald Meyer of the King County Sheriff's Office opened tonight's White Center/South Delridge Community Safety Coalition meeting with an update on recent crime trends, reporting "a pretty good month without a lot of crime."
"There were no homicides, shootings, stabbings, armed robberies, bank robberies, home invasion robberies, kidnappings, rapes, or carjackings in King County's Weed and Seed zone of White Center," according to the printed report distributed to attendees at tonight's meeting.
From the city side, Officer Kevin McDaniel of the Southwest Precinct Community Police Team echoed Meyer's sentiments, reporting that "burglaries are down significantly," citing a high-profile arrest that took place on the West Seattle Bridge, believed to have taken a prolific burglary suspect out of circulation.
Beyond that, McDaniel reported five robberies last month, three of which took place on the street, prompting him to encourage residents to remain cautious when walking in the area and taking steps to avoid any people who may appear suspicious. He also said there was a recent increase in auto thefts, which seem to be primarily targeting Hondas to be taken out for joyrides.
According to Meyer, there has also been a recent focus on suppression of gang activity in the downtown White Center area, particularly on Saturday nights, which have traditionally seen the most problems.
One successful result of the Saturday night efforts came when Meyer and another officer conducted a traffic stop on a vehicle occupied by several known gang members, who were ultimately taken into custody upon the discovery of a pair of handguns.
"We will never know for sure what this arrest stopped from happening. This stop and arrest may have saved lives and for sure made our community a safer place."
Meyer's message for the group was simple: "Whenever you see something suspicious, call."
Coalition members raised concerns about recent increases in graffiti around the area. Once member had even taken a photo of a particular 'tag' he'd been seeing around and showed it to the officers in attendance.
Detective Aaron Thompson, who works on the gang unit of the King County Sherriff's Office, explained that gang-related graffiti can be differentiated from that of "taggers" in that the work of a tagger, who is likely trying to build their own notoriety by putting their "tags" in highly visible places, tends to use a lot of curves and "artistic" elements in how they write, whereas a gang "tag" tends to be a little more basic and is meant to be an indicator of claimed territory.
Meyer emphasized that citizens who find new graffiti should call the Sheriff's Office to report it so it can be documented before any action is taken to remove or obscure it.
Tags: white center community safety coalition
You can follow any responses to this entry through the RSS 2.0 feed. Both comments and pings are currently closed.