Sad News: Cherisse Luxa, Community Activist Passes Away
It is with a very heavy heart that we write to inform you of the passing of our dear friend Cherisse Luxa, the founder of Burien Drinking Liberally. Cherisse lost her fight with stomach cancer this morning.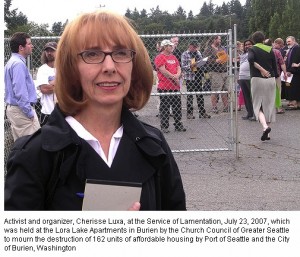 If you have ever attended Drinking Liberally, you almost certainly know of Cherisse's incredible energy and her unstoppable drive to make our community a better place. From her decades as a King County Sheriff's Deputy to her impressive track record as an activist an advocate, Cherisse made a huge difference, both for Burien and for the broader community.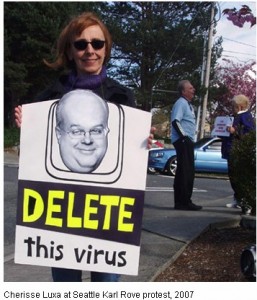 Cherisse touched thousands of lives and was a role model for many of us. We will sorely miss her.
We will be in touch with memorial information. In the meantime, if you know of or are able to provide a home to two of Cherisse's much-loved cats (Howard and Harris, who are four years old and would prefer to be adopted together), please let us know as soon as possible.
(Via Liz Giba) Photos from Flickr
Tags: Cherisse Luxe
You can follow any responses to this entry through the RSS 2.0 feed. Both comments and pings are currently closed.