More from North Highline Unincorporated Area Council: Evergreen Pool update
More from last night's North Highline Unincorporated Area Council monthly meeting, this time a followup on the rally earlier this week at Evergreen Pool (on the eve of its indefinite shutdown, which began Tuesday):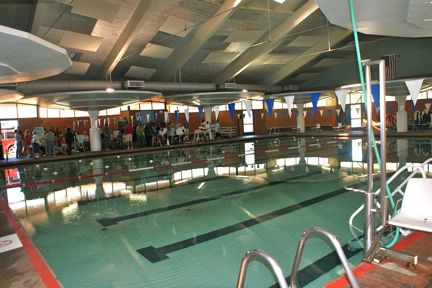 NHUAC president Greg Duff outlined the latest developments, including a recap of Monday's rally, but with a new wrinkle – he says the county told WhiteWater Aquatics, which hopes to take over the pool and reopen it, that it needs $100,000 in reserves to make sure labor/utilities/other costs can be paid until it has a "positive cash flow." Duff described WhiteWater's bid as a unique situation, adding, "How can a nonprofit come up with $100,000?" He quoted WW's Ed Marrs as summarizing, "It's down to money … $100,000." WhiteWater has filed LLC paperwork with the state but there still appears to be no chance the pool would reopen any sooner than January 1st, even if WW's attempt is successful. There was some question of why the pool didn't wind up in the annexation area; during the meeting, in his update on post-vote annexation matters (more on that later), Burien City Manager Mike Martin said his city would rather build a new pool than try to keep up a dated facility like Evergreen (one of many regionally built with "Forward Thrust" money more than three decades ago).
Tags: Evergreen Pool, North Highline Unincorporated Area Council, WhiteWater Aquatics
You can follow any responses to this entry through the RSS 2.0 feed. Both comments and pings are currently closed.