Also from White Center Community Safety Coalition: Say "so long" to Kathy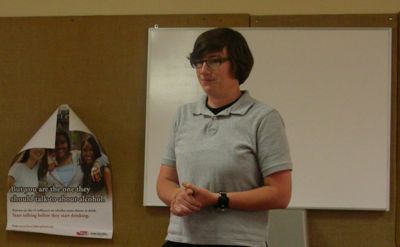 If you've ever been to a White Center/South Delridge Community Safety Coalition meeting, you know that's Kathy Kaminski, one of the WCSDCSC's energetic co-facilitators (along with Karen Greene). At the end of Thursday night's meeting, Kathy had a personal announcement: Next meeting will be her last, as she is leaving Seattle Neighborhood Group in July to return to school, seeking a Master's Degree in Public Administration. She says she hopes to return after her two years of studies; she's been with SNG for five years (per its staff page).
Tags: Kathy Kaminski, Seattle Neighborhood Group
You can follow any responses to this entry through the RSS 2.0 feed. Both comments and pings are currently closed.