The Origins of the "Son de los Diablos" Dance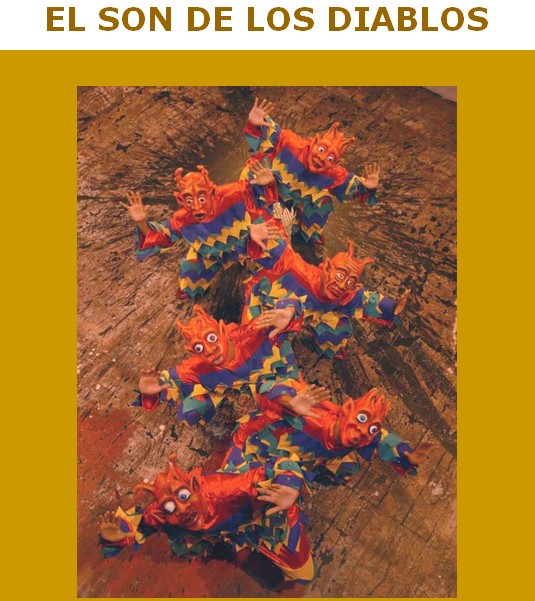 'Son de los Diablos,' originated in the Corpus Christi celebrations in Lima during the Colonial Period. As the ruling elite in colonial Peru framed it, blacks represented evil forces in a religious drama. However, by the time of slavery's abolition in 1854, Afro-Peruvians had appropriated this dance as a symbol of cultural resistance and practiced it especially during carnival in the barrios where these were relocated. The Son was banned from the streets 1940s when President Manuel Prado prohibited carnival celebrations in Lima. In the 1980's the Movimiento Negro Francisco Congo, a collective dedicated to the recovery and revalorization of Afro-Peruvian traditions, approached Grupo Cultural Yuyachkani to recuperate the tradition of this street dance and to perform it on the streets once again. The group of Francisco Congo would teach the dance, and Yuyachkani would contribute their maskwork. Yuyachkani considered this dance a master dance for young actors because it includes codification of the body, maskwork, dancing, and an active and playful relationship with the audience. Peru's most important theatre collective, Grupo Cultural Yuyachkani (www.yuyachkani.org) has been working since 1971 at the forefront of theatrical experimentation, political performance, and collective creation. 'Yuyachkani' is a Quechua word that means 'I am thinking, I am remembering'; under this name, the theatre group has devoted itself to the collective exploration of embodied social memory, particularly in relation to questions of ethnicity, violence, and memory in Peru. The group is comprised of seven actors (Augusto Casafranca, Amiel Cayo, Ana Correa, Débora Correa, Rebeca Ralli, Teresa Ralli, and Julián Vargas), a technical designer (Fidel Melquíades), and an artistic director (Miguel Rubio), who have made a commitment to collective creation as a mode of theatrical production and to group theater as a life style. Their work has been among the most important in Latin America's so called 'New Popular Theater,' with a strong commitment to grass-roots community issues, mobilization, and advocacy. Yuyachkani won Peru's National Human Rights Award in 2000. Known for its creative embrace of both indigenous performance forms as well as cosmopolitan theatrical forms, Yuyachkani offers insight into Peruvian and Latin American theatre, and to broader issues of postcolonial social aesthetics.
May 29th, (Friday) 6pm
Devil's Dance Parade in White Center
followed by concert at Café Rozella
7pm   9434 Delridge Way SW
Seattle, WA 98106 (206) 763-5805
Cafe Rozella brings the hottest Latin music to Seattle:
Afro-Peruvian Dance and Music: El Son De Los Diablos
Parade Route: Parade starts at El Paisano, on the corner of 15th Ave. SW and Roxbury, proceeds to La Fondita at SW 98th St., and then to Full Tilt Ice Cream at 9629 16th Ave SW and then to triangle at Roxbury and Delridge and from there to Café Rozella at 9434 Delridge Way SW.
NPR States
, "Afro-Peruvian music has complex, sensual rhythms. Its instrumentation is spare, originally just nylon-string guitar, bass and a wooden box called
cajon.
When it started getting outside attention in the mid-'90s, it felt new. The music's lean architecture and introspective mood differentiated it from the likes of salsa and merengue."
"The people of the so-called Black Pacific were so far removed from their African origins that the creators of Afro-Peruvian music couldn't rely much on cultural memory. So they created instruments, rhythms and a compelling musical aesthetic that was largely a product of their imaginations. The pride of Afro-Peruvian music is the lando, an elegant dance with intertwined rhythms and a seductive undertow."

Admission is FREE!
Presented 
by
The 
AFrican ConeXion Project
and Café Rozella.
Funding by 4 Culture Site Specific Grant
Tags: Afro-Peruvian Music, Devil's Dance Parade, Son de los Diablos
You can follow any responses to this entry through the RSS 2.0 feed. Both comments and pings are currently closed.