White Center coffee: Caffé Delia opens tomorrow (Sunday)!
4:25 PM SATURDAY: Just got the word from Stefanie at Proletariat Pizza in downtown White Center:
One of our lovely servers, Delia, will be space sharing with us, opening her own coffee shop in our space in White Center. She will be having a soft opening tomorrow beginning at 8 am. The coffee is really something special.
If somehow you have not been there … they're at 9622 16th SW, across the street from Full Tilt Ice Cream. And that's where you'll find Caffé Delia, starting Sunday. It's serving Spella Coffee – and hours are listed on its fledgling website.
ADDED 9:54 AM SUNDAY: We stopped by to say hi to Delia: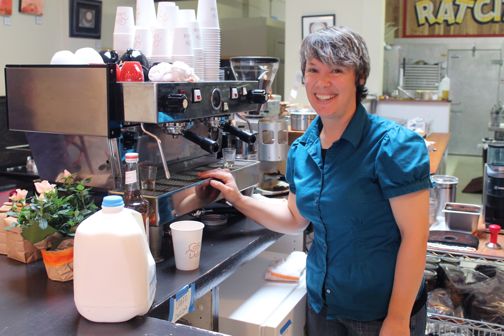 You can follow any responses to this entry through the RSS 2.0 feed. Both comments and pings are currently closed.